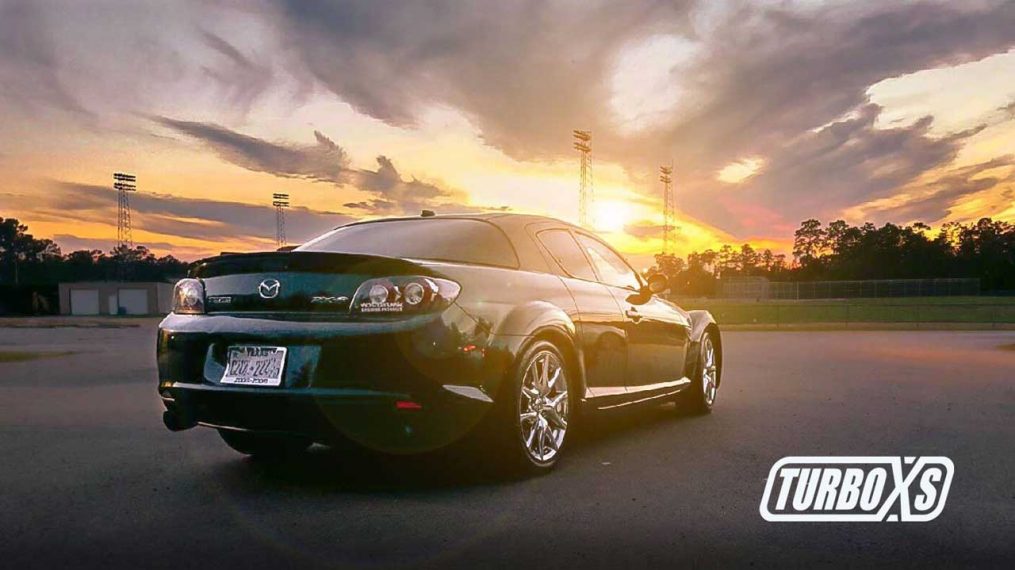 2009 Mazda RX8 S2 Grand Touring
(scroll down for build list)
We love the RX8!
As many of our customers and followers know, we love the RX8. It's got a special place in our hearts and we are always thrilled to hear from an owner that has our parts. During one of our recent promotions, we got a direct message from one of our long-time customers with some cool footage of his RX8 shooting flames out of the TurboXS Catback Exhaust (see vid below).
Kris was gracious enough to send us a few pics of his ride as well as send us his build list. After emailing back and forth, I learned a little about Kris and what makes him tick. Let me tell you, this plumber from Magnolia, Texas is a pretty cool guy. He's a passionate car RX8 enthusiast and is a member of 2 car clubs: RX Club of Houston and Nator Houston.
The last time he was able to get on the dyno, he got 235 to the wheels, but that was with an exhaust and fuel leak. He hasn't had the chance to retest since the repair, but he's thinking that he will come in at 240/245whp. Not too shabby!
The Build
Tein lowering springs
Exedy stage 3 clutch
Exedy chromoly comp lightweight flywheel
Exedy counterweight
Garageline headers
Turboxs catless racepipe
Turboxs catback
AEM CAI
BHR ignition system
BHR motor mounts
Reflash by Nelson Siverio
"It's not just a car, it's someone's dream."
When it comes to future plans for the car, Kris was "hush hush" about what he's got in the works.
Thank you Kris for being a loyal customer and repping for TurboXS! The RX8 gets a lot of haters, but you know how it is; it's hard to please everyone. The beauty of meeting people in the gearhead community is understanding what drives their passion for cars. Kris says,"I fell in love with the RX8 at first site. It's not just a car, it's someone's dream."